Godsmack, Staind, & Halestorm Announce Mass Chaos Tour Dates
Sheila
Misc
2 minute read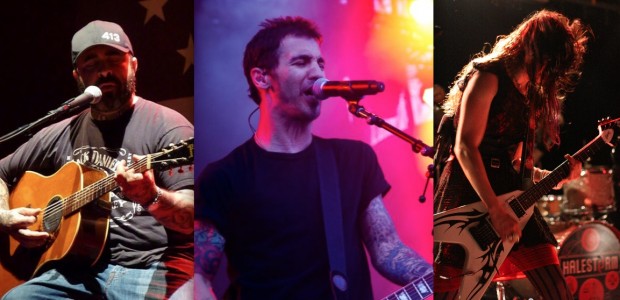 Last week it was announced that Godsmack, Staind, and Halestorm were hitting the road together for a US tour. The Mass Chaos Tour -- as named by the fans -- begins April 13 in Augusta, GA, and continues on through to May 18 in Bangor, ME.
As mentioned earlier, the bands gave the fans the opportunity to name the tour, and now they're giving them the chance to design the tour poster. If you're interested in taking part in the contest, you can find more info here. The winning designer will receive $500, a prize pack, and 2 tickets to a show.
Check out the tour dates below, and remember, if you plan on attending any of these shows, don't forget to share your concert pictures with the world on UpVenue!
Godsmack/Staind/Halestorm - Mass Choas Tour Dates 2012
April 13 - Augusta, GA - James Brown Arena
April 15 - Estero, FL - Germain Arena
April 17 - New Orleans, LA - UNO Lakefront Arena
April 18 - Lafayette, LA - Cajundome
April 19 - Bossier City, LA - CenturyLink Center 99 X Fest
April 21 - Lubbock, TX - Lone Star Amphitheater
April 22 - Belton, TX - Bell County Expo Center
April 24 - Beaumont, TX - Ford Pavilion
April 25 - Laredo, TX - Laredo Energy Center
April 27 - Phoenix, AZ - Quail Run Park 98 KUPD UFEST
May 1 - Corpus Christi, TX - Concrete Street Amphitheater
May 2 - San Antonio, TX - Illusions Theater
May 4 - Lexington, KY - Rupp Arena
May 6 - Evansville, IN - Ford Center
May 9 - Battle Creek, MI - Kellogg Arena
May 11 - Nashville, TN - Bridgestone Arena
May 12 - Huntington, WV - The Big Sandy Superstore Arena
May 15 - Syracuse, NY - Oncenter
May 16 - Manchester, NH - Verizon Wireless Arena
May 18 - Bangor, ME - TBA
*Photo credit for Aaron Lewis - Marc S.*