Foo Fighters Montreal Concert Review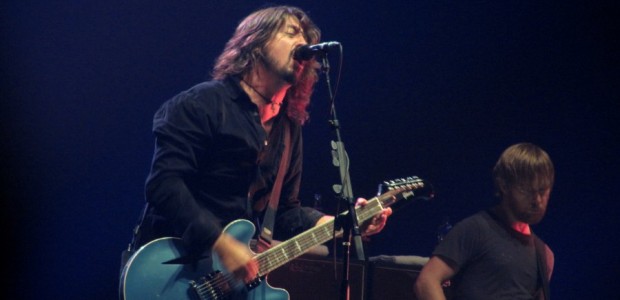 Back in 2006, Foo Fighters came to Montreal and were part of a very unusual lineup. They didn't headline that specific show, but instead, they supported Bob Dylan. Gone were the loud rock riffs one would expect from the Foo. In their place were softer acoustic melodies with the crowd sitting quietly in their assigned seats in the floor area. Referring to the Dylan show, Dave Grohl joked "10% of the crowd were Foo Fighters fans, (a total of) 30% had heard of us, the other 70% had no idea who we were". They returned for another show a few years later that was split into two part: One half electric and the other acoustic. Last night, on the heels of their successful new album Wasting Light, Foo Fighters returned to Montreal for an all out rock show.
They started off strong with two tracks off Wasting Light: Bridge Burning and Rope. Foo then switched over to a lengthy version of their Grammy winning song The Pretender. If you've ever been to a Foo Fighters show, you'll know that they like to change their songs up and this was no exception. Classics like My Hero, Breakout, Stacked Actors, Learn to Fly and others were given an extended rock treatment that included several guitar and drum solos.
Prior to singing Cold Day In The Sun, drummer Taylor Hawkins joked "We sold 3000 more tickets than Britney Spears did for tomorrow [..] we finally beat Britney!".
Later in the show, Dave Grohl paused for a moment and directed his attention back to the audience: "We're five guys playing five different instruments. We're not using computers. [..] This is what music sounds like when you don't use computers". The band then played Monkey Wrench and the fans erupted. Near the end of Monkey Wrench, Grohl explained how he's able to scream so much -- as well as how awful he sounds like the morning after -- and then, asked for the lights to be shut. He proceeded to screamed lungs out as the fans joined along: "One last thing before I quit [..]"
The encore included three acoustic solos by Dave Grohl: Wheels (with a tremendous crowd participation), Best of You, and Times Like These. During Times, with everyone's eyes on Grohl who was in the middle of the venue, his bandmates began performing on the main stage catching everyone off guard. They then proceeded with a cover of Young Man Blues and finished the night with Everlong, which included an unwarranted mosh pit.
Foo Fighters have time and time again demonstrated why they are one of the greatest rock acts out there. The show felt fresh, didn't rely on any gimmicks and the setlist included songs from every single record including their very first track, This Is a Call. Whether you're a fan of the louder tracks like White Limo or you prefer the softer melodies of Everlong, the show had something for everyone.
Foo Fighters have only just started their extensive North American tour, so make sure you see them live at least once. For more Montreal shows, visit our friends over at Evenko.
Don't forget to see our gallery of Foo Fighters pictures.